Guide
Blossoming with flavor: Al fresco dining on London's terraces
May 2023
Jessica Hockley
5 minute read
London has a variety of fantastic restaurants with beautiful outdoor terraces, and as the weather warms up, there's no better time to enjoy them. Here are some of the top restaurants in London on First Table with terraces perfect for dining, drinking (a cheeky sangria anyone?) and enjoying the spring and summer vibes. 
Camino Shoreditch & Kings Cross
The promise of summer has us dreaming of sunny days with our loved ones and dining out with ice-cold drinks. 
As soon as you swing the doors open at Camino Shoreditch the electric energy hits you, welcoming you to intimate tables and an infectious buzz of the exposed kitchen. If the weather is fair, you can immerse yourself in Shoreditch's signature vibe on the patio outside, where the fiesta is just beginning.  Over at Camino Kings Cross, their outdoor terrace is constantly abuzz, attracting tapas enthusiasts from far and wide.
Camino's menu offers small plates from carefully selected cured meats and cheeses, Ibérico pork, suckling pig and prime rib-eye steak. Pair the meal with a jug of crimson sangria, and get the Spanish party started. With all they have to offer, you can't say no to Camino.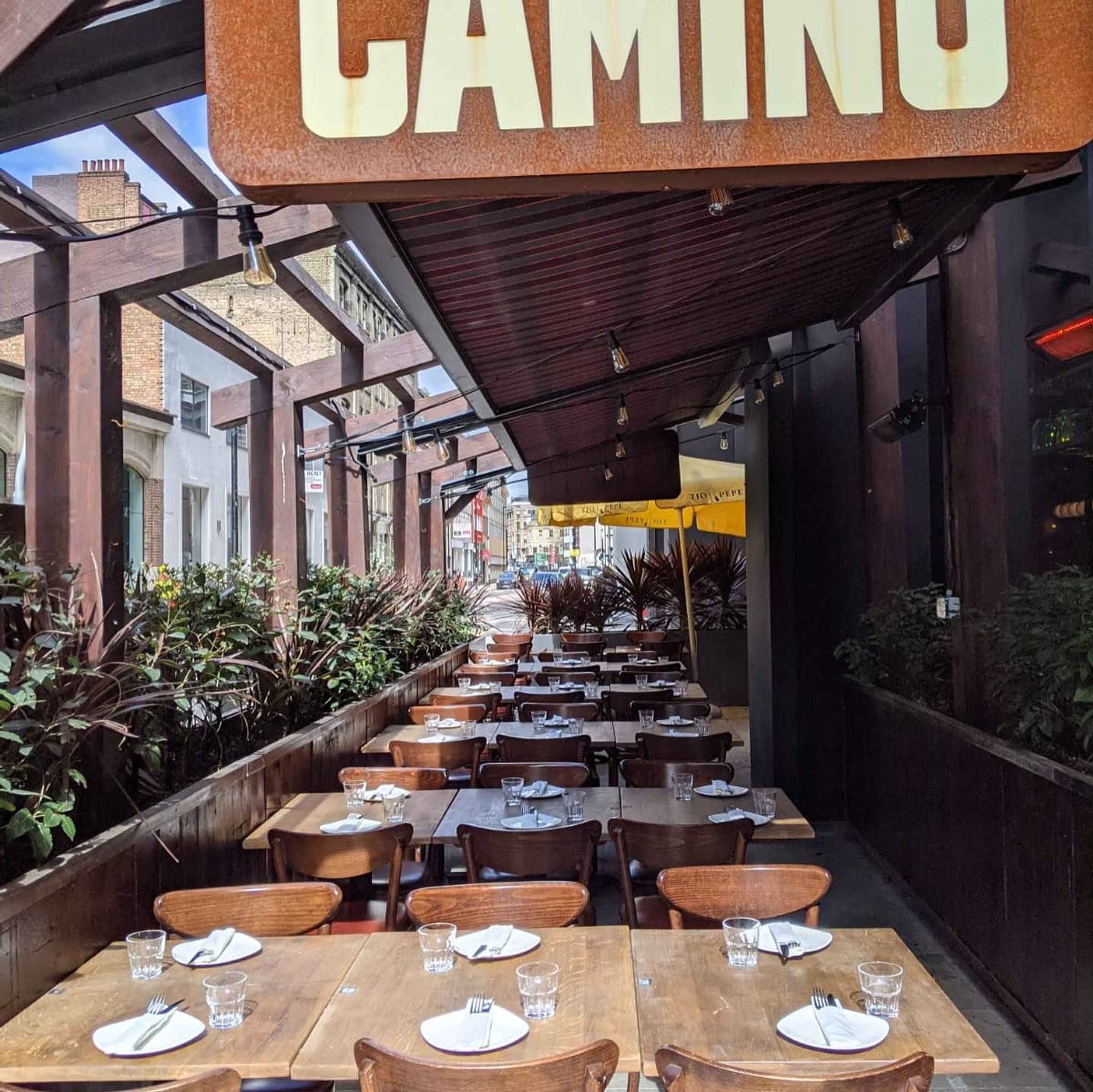 The Arber Garden
The Arber Garden has created an indoor/outdoor space that encourages diners to breeze in at their leisure, and dine amongst the floral prints, potted plants and dried flower arrangements in the beautiful botanical dining room. 
Offering healthy, light and bold plates, The Arber Garden is a pioneer in modern British cuisine. Norfolk horn lamb is paired with buttery potatoes and mint, poached Cornish halibut with root vegetables. Perfect for vegetarians and meat-eaters alike, British produce really gets its moment in the spotlight.
Finally, water those roots with a fruity cocktail or G&T. You can always trust a botanist for the best mix in town.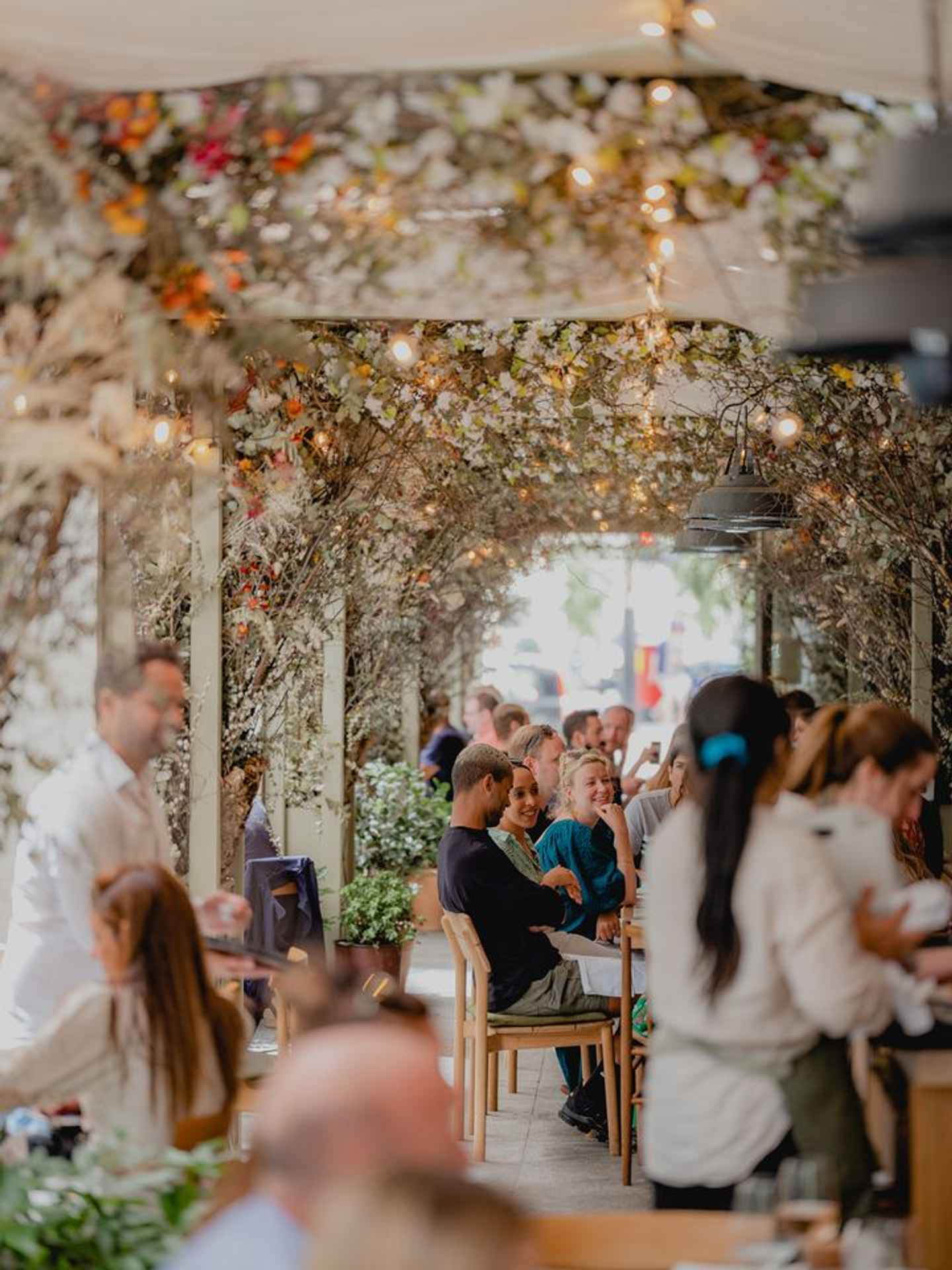 Hush
Upon arrival, Hush's exceptional flower arch should give you an idea of what to expect. Let's start with the fully sheltered outdoor terrace, decorated with the season's flowers.
And the food? How about for starters, Yellowtail Sashimi, fried Roman artichokes and burrata cream and black truffle Bruschetta?
As for mains, you can choose from spaghetti lobster, Venetian tiger prawn risotto, paccheri with Tuscan sausage, and spaghettone Cacio e Pepe. Don't stop there; with Italian black Angus beef fillet, Spatchcock grilled chicken, and elegant seafood dishes, Hush's plates are enough to leave you speechless.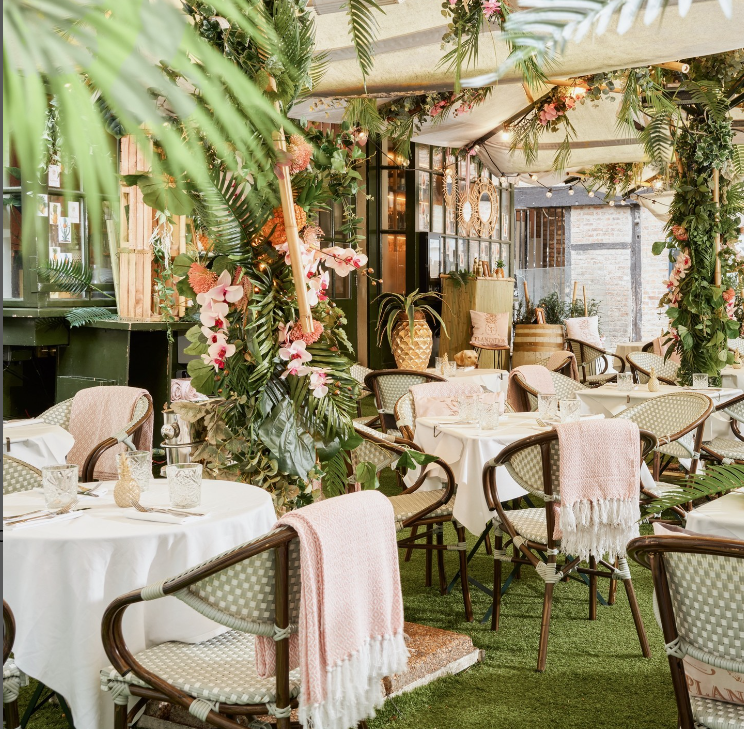 Revolve Brasserie
An upmarket dining destination that flawlessly combines Parisian fine dining with a focus on prime British ingredients, welcome to Revolve! With a commitment to providing an exceptional experience, this restaurant also offers an inviting outdoor patio, allowing diners to savour their meals in a charming al fresco setting during the warmer months.
Prepare to embark on a culinary journey as you peruse the menu at Revolve Brasserie. It presents a harmonious blend of classic dishes and innovative culinary techniques.
Delight your taste buds with the delicately poached chalk stream trout, perfectly complemented by luscious fennel and Almandine butter sauce. Indulge in the elevated rendition of the beloved coq au vin, featuring the rich flavours of smoky bacon. 
Revolve Brasserie's commitment to excellence extends to its grill selection. Immerse yourself in the sizzling flavours of chargrilled delights, from the succulent Ribeye steak to the tempting chargrilled cauliflower. To conclude your meal on a sweet note, choose from a delectable array of eight French-inspired desserts, each crafted to perfection.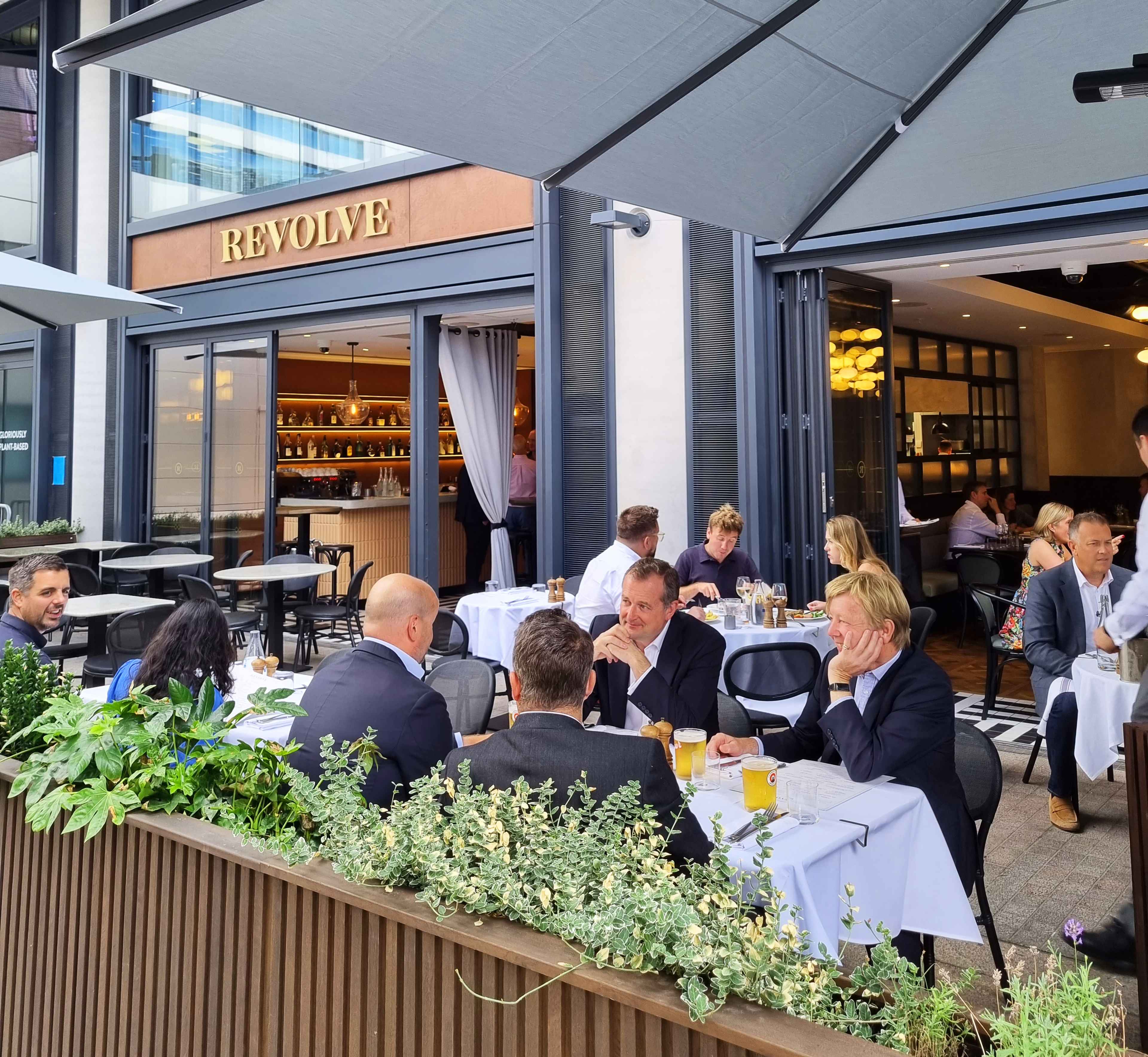 Riding House Bloomsbury
Nestled in one of London's fashionable districts, Riding House Bloomsbury has blossomed from a charming eatery into a much-loved institution over the past decade. With a welcoming atmosphere that draws in everyone from large groups to cosy pairs, RHB shines with its light-filled, spacious dining hall and a stylish patio. The summer patio is adorned with modern furniture and a flourish of lush greenery, making it an oasis of calm, whether you're indoors or enjoying the open air.
The food at RHB is a revitalising culinary journey. Bowls overflow with wholesome ingredients, skewers that tantalise the taste buds, and larger plates that take inspiration from Europe and Asia. The dining experience culminates with delectable hot brioche doughnuts and smooth, barrel-aged cocktails. Riding House Bloomsbury isn't just a restaurant, it's a rejuvenating food experience embracing connection and a touch of decadence. It's where London's charm meets warm hospitality and incredible flavours, whether you're dining inside or under the open sky on the patio.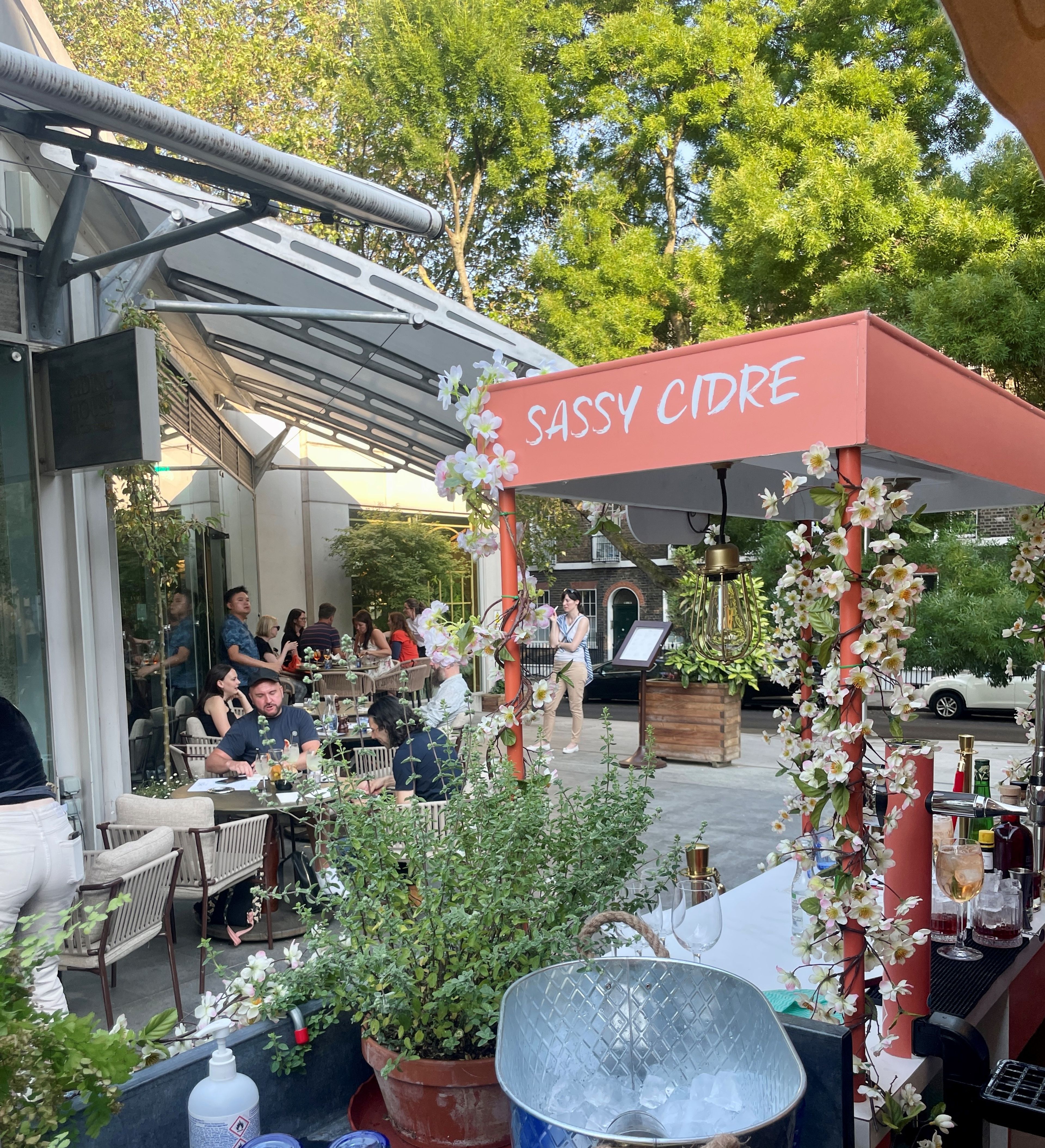 As the weather warms up and the days get longer, there's no better time to indulge in some outdoor dining and explore the al fresco offerings of these six restaurants in London. Make the most of the sunshine and savour the flavours of this beautiful season.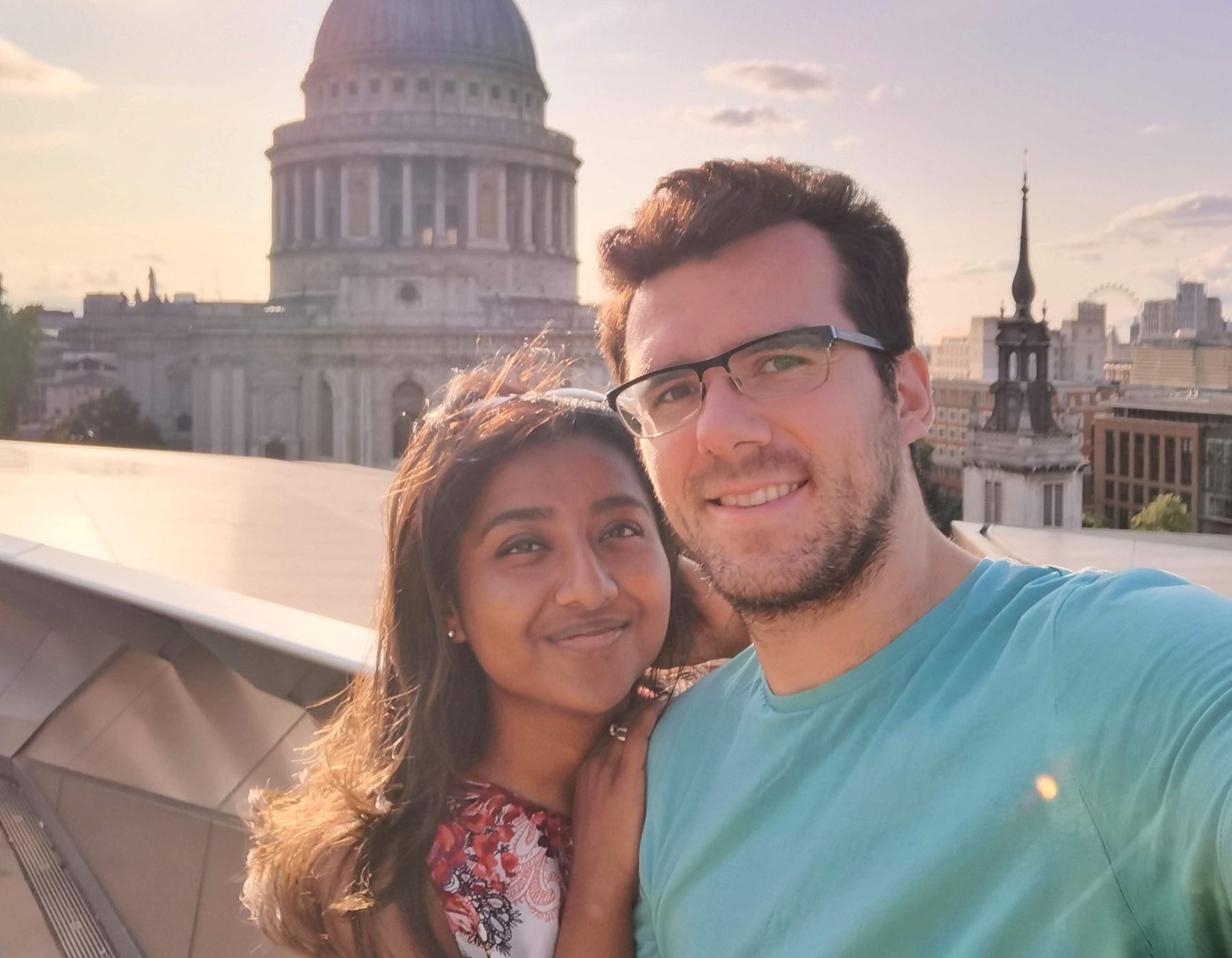 Ambassador Program
In the heart of London, a couple's passion for food and adventure turned into a thriving social media journey.
First Table  •  November 2023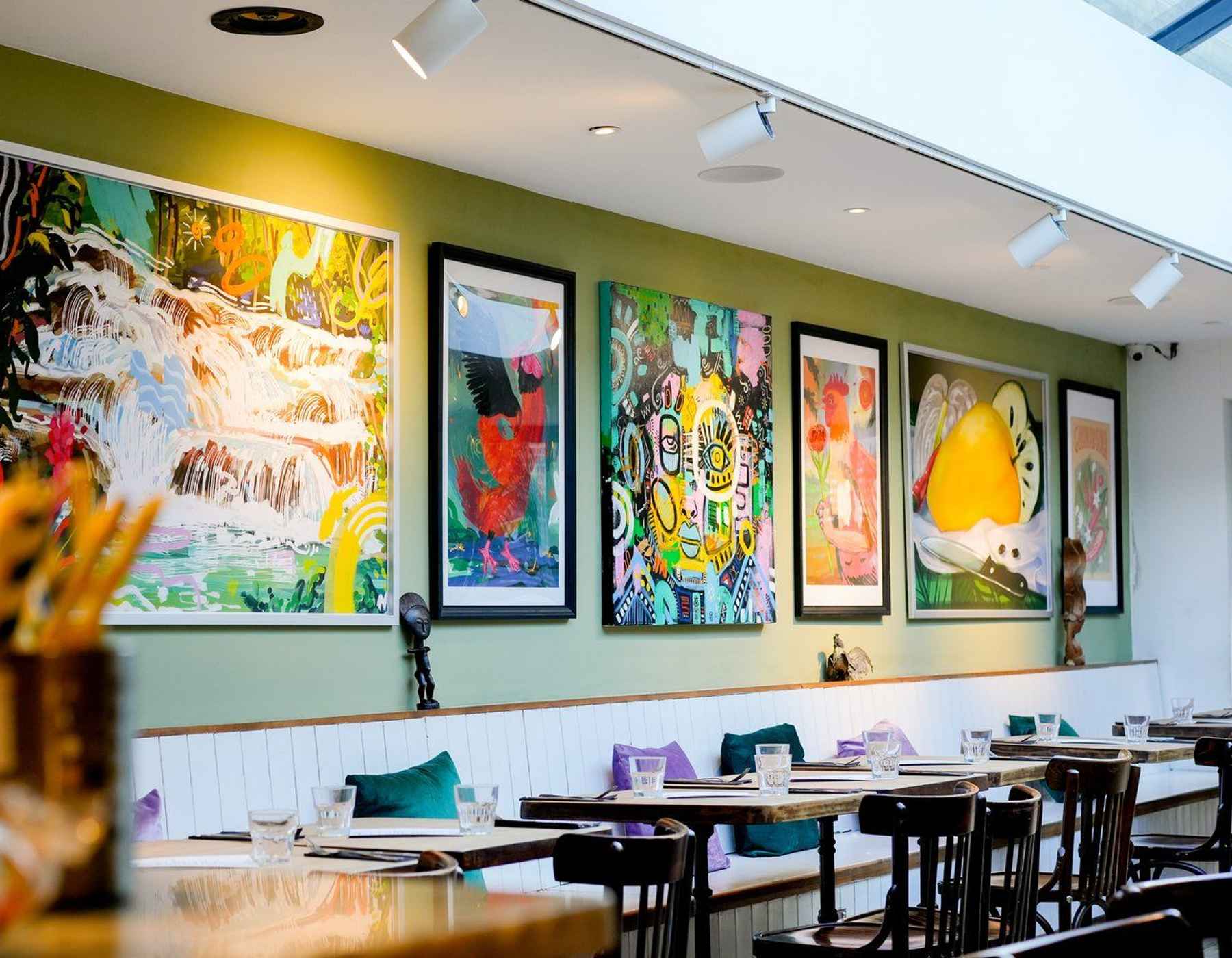 Guide
In the heart of London's eclectic Camden, a vibrant tapestry of culinary experiences awaits.

Robyn Columbus  •  October 2023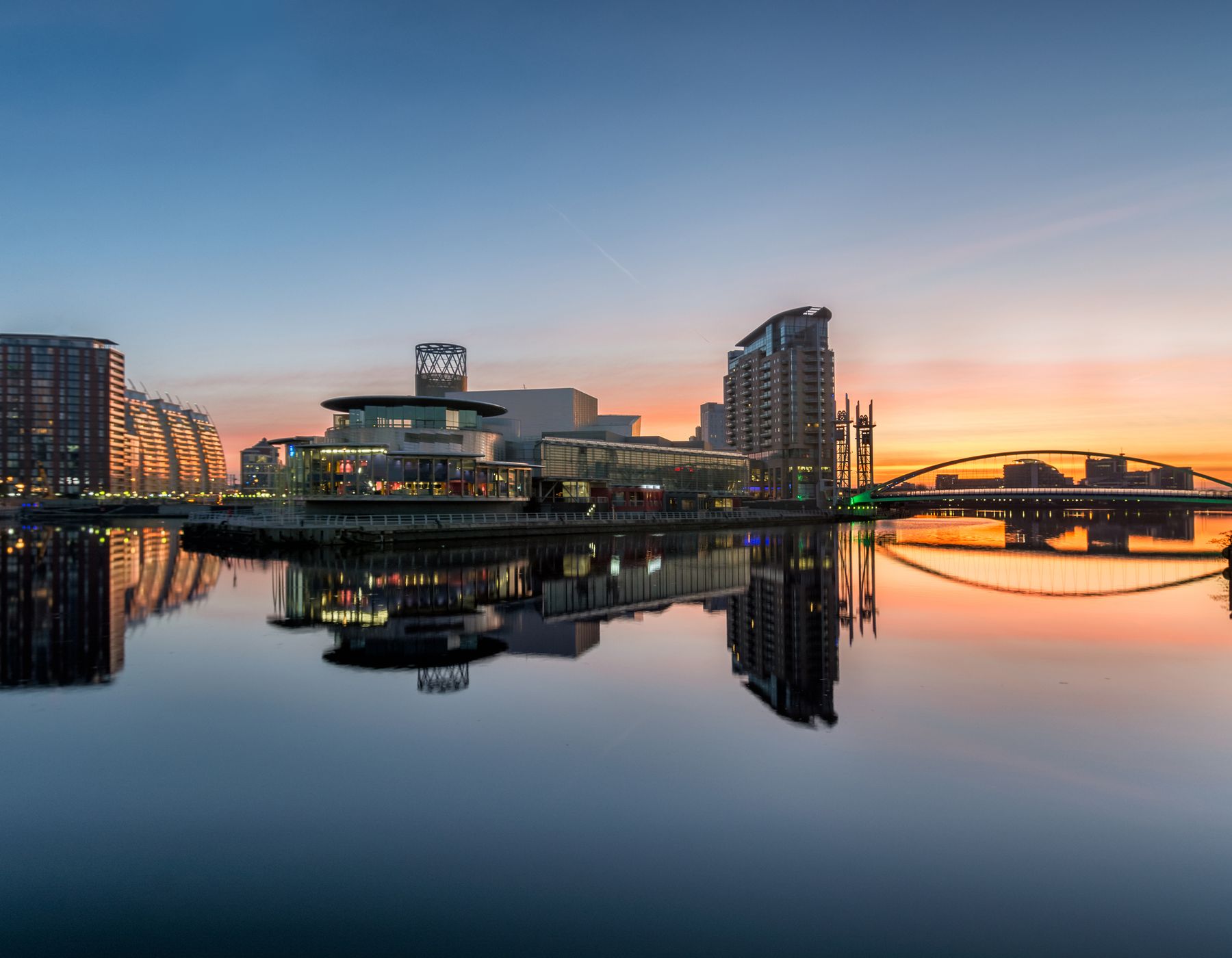 News
First Table is LIVE in the 0161 today, October 2nd, bringing a feast of never-ending culinary journeys to Manchester foodies.
First Table  •  October 2023
Diners
Join more than 1,000,000 diners who already ❤ First Table.
Restaurateurs
Join more than 1,500 restaurants who already ❤ First Table.